eCommerce Growth sees no limits with current pandemic threats
General, Price-monitoring, eCommerce ·

Now we can say for sure that the Covid-19 pandemic is the event that defined this year. Moreover, the implications will be visible during the next few years for sure. Since the whole chaos has started, the situation has been changing on a daily basis.

While the whole world is facing problem after problem, one industry seems to be the light at the end of the tunnel. Due to worldwide lockdown, people had to turn to eCommerce. Physical stores were closed, and eCommerce showed up as a solution that will save the day. People are forced to change their shopping behavior and eCommerce is seeing enormous growth around the whole world.

We've gathered some numbers about what products people are buying, and what industries are feeling the strain.
Changes Across eCommerce
As people adapted to lockdowns and distancing, there has been a drop-off in brick-and-mortar stores. Of course, that means that the majority of us have turned to eCommerce. However, not all industry branches are having great numbers. For example, the need for groceries and household goods significantly increased. A survey by Engine states that people are spending around 10-30% more online.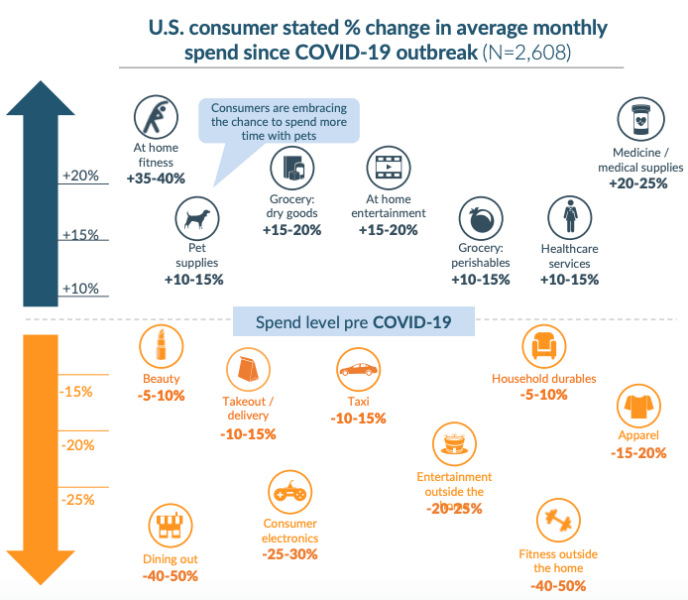 Source: LEK Consulting, Civis consumer survey (2020) 
Another research conducted by Valassis shows some interesting data as well:
48% are remaining loyal to their usual/familiar brands
21% are purchasing a mix of usual and new brands
13% are "taking the opportunity to discover new brands"
This means that businesses have to adapt to the situation faster than ever. A requisite for this is being aware when there is the need (and the right time) to perform a price change.
Many price monitoring tools that are available on the market can help you with this, but one of the proven ones is Price2Spy.
Let's take a closer look at the changes in specific industries.
1. Grocery eCommerce
During the pandemic, grocery eCommerce hit the peak like nothing else. This became obvious from the very beginning when the panic shopping started. Soon enough, people couldn't find the basic groceries in brick-and-mortar stores. That's when online ordering started striving.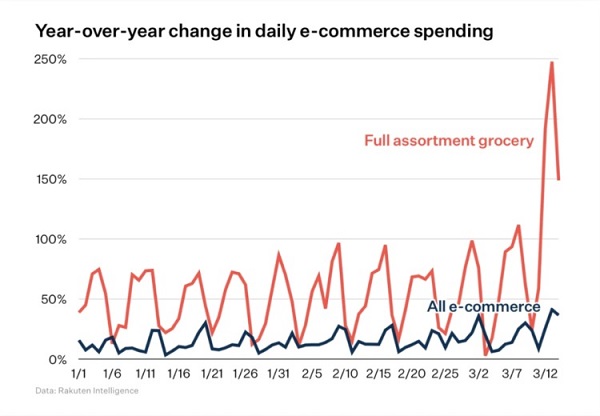 Source: Common Thread Collective
Other industries have also seen some good days during the pandemic, but definitely no one had such a drastic peak as grocery eCommerce.
Also, in an effort to avoid crowds in supermarkets, people started to use grocery apps more than ever. For instance, downloads of apps like Instacart have increased by 218%! This app allows customers to create their personal shopper, set a grocery list, and have them delivered to their home.
2. Health products
During this world health crisis, it's not unusual that products like sanitizers, hygienic and medical masks have seen a skyrocket in sales. By that, we mean that the sales increased by an unbelievable 300%!
Therefore, it's not surprising that so many people have seen empty shelves in the supermarkets. With such high demand, it's logical that products can't be produced or restock so fast.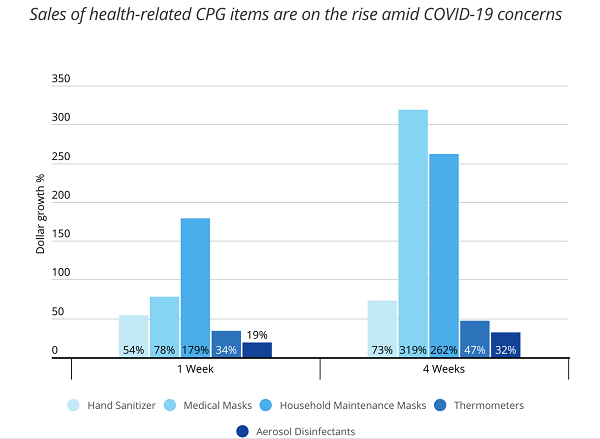 Source: Nielsen
3. Tech and gadgets
Covid-19 affected all aspects of our lives. The majority of people are working from home, and that means that we all need to create some sort of office space in our home. Therefore, it's no surprise that the first thighs that went missing were computers, laptops, cameras, etc.
On the other hand, lockdown means a lot of free time, right? And what a better way to fill that time if not with games, and social media. For the ones who are more responsible and persistent with their healthy lifestyle, quitting the gym wasn't an option even now. Due to that, almost all stocks of smaller gym equipment were empty.
4. Fashion and luxury
If the previous products and industry branches are living their best life, the situation with fashion is completely opposite. The main reason for this is that people are putting more of their budget on daily essentials. Customers are obviously not interested (nor have an option) into trying clothes in stores, and guessing the right size online can sometimes be tricky.
In addition to this, Vogue Business projects a loss of around $10 billion in this industry. Another reason for such bad numbers is the fact that this industry heavily relies on the purchasing power that the Asian market has. However, that has completely changed during these uncertain times.
Source: Vogue Business
Conclusion
This year for sure is one of the most uncertain ones. Fast-paced changes are involving everyone - from business owners to customers. While many industries are struggling, we can see that those losses can be amortized if you have an online store. eCommerce is doing better than ever, but it's still unknown if the changes in shopping behavior will remain permanent, or they are just a one-time thing.
At the end of the day, no one knows your customers better than you. Therefore, stay open to change and try to understand the ways their behaviors are changing, so you're able to offer them the right products at the right time.
If you're not sure that you'll be able to follow up with all the price and stock changes that are going on, feel free to start a 30-days free trial period with Price2Spy.
How is your business holding on during the pandemic? Share your experience in the comments below!